Marrying styling details and personal elements in both a pretty and poetic way is a wedding planning challenge faced by many. To lend a creative helping hand, we turn to our resident columnist, Shona Harper-Wilkes, an interior design expert and owner of renowned Teesdale venue Lartington Hall.
I'm often asked for advice about wedding day styling as so many couples find themselves lost in a frenzy of social media images, not knowing how they can blend their ideas, goals and personalities into a cohesive and beautiful day.
For some styling is about how a centrepiece will look, where the dessert table will go and what colour the bridesmaids' dresses will be. In reality it is, of course, all of these things – but so much more too. It's about designing your day around a harmonious concept whilst also reflecting your individual style, to make your day effortlessly gorgeous but at the same time unique to you.
And so, in this column I'm focusing on the how to combine those all those thoughtful styling details with important personal touches that will result in a consistent look and feel to your day, taking the celebrations from beautiful to breath-taking!
With images by Belle & Beau Fine Art Wedding Photography

Manage The Mood
The key to any design project is to define the look and sense of feeling you are trying to evoke and so the starting point should be your mood board. It sounds a bit 'arty' I know, but you're probably already doing it subconsciously every time you download an image from Pinterest.
A mood board orders these thoughts – it's not about specific floral arrangements or table designs, but rather a way to showcase the overall style and mood of your day. Most importantly, it's from your mood board that you can then decide on all your planning and styling decisions as you progress – does that bouquet style work with my gown, flower choice and overall vision; are my colours consistent or too restrictive; does my table design reflect my feel for the day?
Though it is time invested upfront, editing your saved images into a mood board will save you a lot of time and deliberation further down the line. It keeps you focussed and helps forge a way through all the choices and options out there. It's also an extremely effective way to communicate your brief to your florist, stationer and other suppliers.
In terms of creating your own mood board, you can do it the old-fashioned way with a physical board – I still love handling fabric swatches and paint samples when embarking on an interior project – or there are also a range of amazing, free, digital options available too. The main thing to remember is to enjoy the process – there's no right or wrong as it's your day!

Style Selector
You may already have firm ideas about what you're after, but a great way to define your wedding style is to simply list your key words. For example, your look might be elegant, ethereal, modern and your feel might be laid-back and romantic.
You can now seek out the visual representation of your ideas and my advice would be not to limit yourself to only wedding images – also think about other images that would convey your styling vision. Think about fashion, fabrics, textures, favourite flowers, memories – this is also a great way to ensure your wedding style incorporates your own personalities and unique past experiences.
Try to keep the board to no more than six to nine cohesive images. If you've chosen your venue, do also incorporate styling and colour ideas inspired by the setting, as well as seasonal details too.

Perfect Palette
The images you will have chosen will have started to form your colour palette, but you might also have very strong ideas about what you'd like to include. We use the word 'palette' because it's important to try and avoid becoming bogged down by a specific colour scheme, to which everything must match! Think more in terms of a range of five or six complementary colours, which will incorporate lighter and darker tones to give both depth and interest.
I use high quality paint charts to help identify colours I'm drawn to, but there are some incredible free software options where you can upload an image, and from there generate and customise a palette. Ta dah!
Once you've refined your mood board, know your style and have a colour palette, you can drill down into the individual aesthetic elements of your such as the cake, flowers, décor and attire, creating more of a look book.
Finally, remember, that whilst you're working from your personal mood board, you will have some contextual details, like ceiling heights, architectural features and the look and feel of the room or space in which you'll be dining or marrying to consider, so embrace these and let the creativity flow.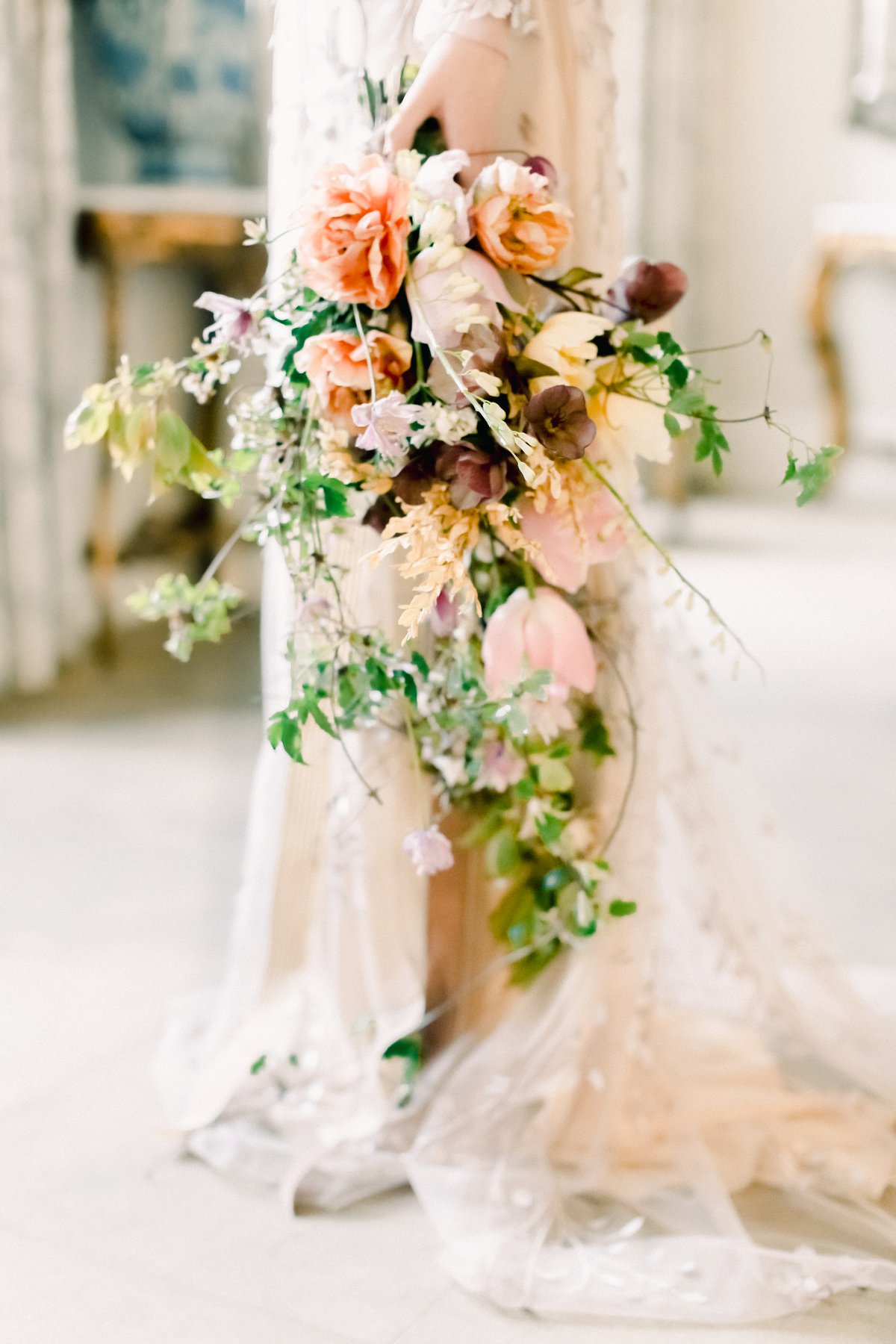 Shona's Primary Picks
Seasonal, foam free flowers
Coloured, drip free candles
Mood lighting, changing throughout the day
Refined, modern food
Stylish bridal accessories
This is a sponsored post
Contact us to work with UNVEILED in print or online.