Crisp, fresh white, rich deep green and glittering, opulent gold – you know what this means! Yup, we're gearing up for the festive season again and this cosy, winter micro wedding shoot is going to get you excited for the coming months and all of the winter wedding goodness ahead!
Yes, we do love all things spring, summer and autumn but we also think there's something beautiful and romantic about tying the knot on a cosy and crisp winter's day.
Bawtry Hall and it's traditional style and elegant neutral decor with a hint of gold is in keeping with the warm but wintery palette of white, cream, gold and green. UNVEILED Network Members Kim of Dreamboats & Carousels and Charlotte from Cherry Blossom Cakes have, together with some other amazing local suppliers, created a clean, modern, minimalist theme against a classic venue backdrop.
With 2020 causing chaos for a lot of people planning weddings, and so many postponements meaning people are putting their other future plans on hold too, today's styled shoot shows how wonderful a smaller wedding can be, as glowing mum-to-be and model Nicola demonstrates beautifully. Don't let Covid-19 get in the way of making your plans!
With images by Charlotte Nelson Photography
CONCEPT
Kim says: With all the wedding postponements this year, we wanted to showcase how beautiful a winter wedding could be for any couples who've rescheduled their date from a prime spring or summer date. We were keen to show how elegant and stylish a winter wedding could be, without being 'themey' at all. Keeping it classy and timeless without a Christmas tree in sight! This 'mini winter shoot' had an extra special touch when nearly-six-months-pregnant Nicola and her husband Dave offered to model for us, showing how beautiful you can look and feel on your wedding day while expecting a baby. From speaking to many of my couples this year, the concerns regarding delaying wedding plans have often revolved around plans to start a family, and we hope this shoot conveys that you don't have to put these plans on hold to compromise having a beautiful wedding day.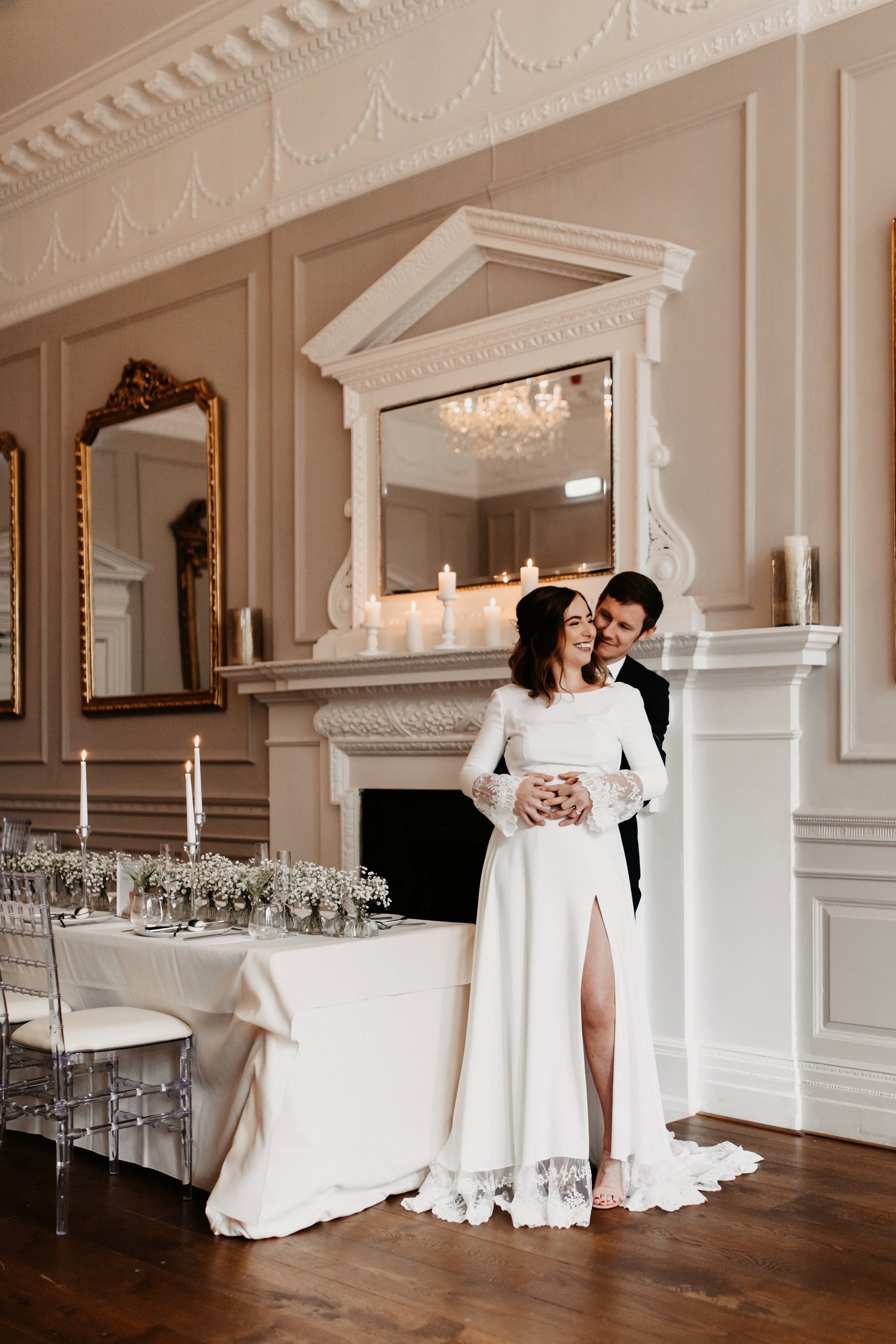 LOCATION
Bawtry Hall was the perfect blank canvas to create this elegant look. With plenty of gold mirrors, white walls and high ceilings, this elegant and spacious venue was the perfect timeless backdrop for the mini winter shoot.
STYLING
Classic white and green styling was used throughout, with touches of silver, gold and black too. We wanted a modern, clean look that oozed stylish minimalism and class. The tasseled stationery, patterned macarons, gold lined green cutlery ribbons, candles and subtle green martini glasses, all tied together perfectly while maintaining the clean and cool look.
ATTIRE
Dress boutique The White Yard carefully selected a stylish dress which would be ideal for a fresh or chilly winter wedding, with its long sleeves, but also still very much sexy and fun with the slit up the front and backless element. Aureus Flos provided some beautiful silver statement hair pieces to tie the whole bridal look together, and Jessica Steele's engagement ring and wedding bands were super elegant and contemporary. Dave's menswear, from Tweed & Groom, was a classic navy suit; ideal for any season, but perfect for this winter look, paired with a white and blue patterned tie and pocket square for that extra pop of personality – because why should it just be the bride who has all the fun?!
BEAUTY
Nicola's mid-length hair could have suited many styles, but due to the exposed back and winter vibe, a half up/half down do was chosen by hair stylist Kerry. It also perfectly suited the hairpiece from Aureus Flos. The makeup was classic and elegant, a neutral but flawless overall look.
RESULTS
The shoot was one of six shoots over two days that Charlotte of Cherry Blossom Cakes and I pulled together. We nicknamed the two day challenge the 'Shoot Mega-Marathon'! We collaborated with three separate teams of suppliers, utilised different spaces in the venue, and created beautiful contrasting concepts which make each and every shoot stand out individually.
It was wonderful collaborating with so many different suppliers during a time when we've been unable to network as freely. We staggered arrival times to aid social distancing measures. It was so rewarding seeing our hard work pay off and hearing such great feedback on the organisation of the shoots. I haven't worked with a pregnant model or bride before, so it was really great to be able to shine a spotlight on 'the pregnant bride', especially in the current climate.
Only one image has been shared on social media from the shoot, and people have already been in touch saying how they relate to the shoot, and how they've considered further postponements due to now falling pregnant. We hope the shoot inspires couples to have their wedding their way, however that looks!
Dreamboats & Carousels are currently pulling together an adapted offering of our usual services to cater to the current climate, while building up to an exciting launch of a new service in October, and Charlotte of Cherry Blossom Cakes is launching an exciting rebrand of her business to mark her 10 years in the industry. Exciting times for us both!
This is a sponsored post
Contact us to work with UNVEILED in print or online.