If vintage art deco is your thing, then you're going to love Amelia and Alex's summer wedding at the charming Saltmarshe Hall, brimming in gorgeousness and dramatic touches inspired by this iconic era.
Let's start with the chic colour palette of gold, navy blue and white, which the couple weaved into their various styling elements – everything from their bridesmaids' elegant halter neck gowns to their flowers and stationery. And with cheeky signage encouraging a little bit of misbehaviour, together with martini glasses and ostrich feathers for their centrepieces, there's plenty of 1920s glitz and glamour – and Champagne – to enthuse even the most ardent Gatsby lover.
Old fashioned games on the lawn and a photo with their bridal party beneath a tree by moonlight are just two of our favourite highlights from their big day, but we'll let bride Amelia go into all the fabulous details!
With images by UNVEILED Network Member David Conway Photography
Proposal
Amelia says: For my birthday, I had asked Alex if we could go for a weekend away, perhaps on a city break somewhere abroad. A couple of days before my birthday, he surprised me with tickets to Paris for the weekend.
Excited to see as much of Paris as possible, I started booking various attractions and had planned to cover some distance across the city, only for Alex to then tear the ligaments in his ankle during a rugby match the day before we flew out! So I walked and Alex hobbled in his moon boot on a romantic weekend around Paris.
On my birthday eve, we got dressed up and went for dinner at a lovely restaurant called The Victoria, by the Arc de Triomphe. We stopped at the Arc for a few sunset pictures and that was when he popped the question – and I said yes. I should have suspected it really, because he had taken the trouble to take the boot off and put a suit on for dinner!
Setting
Saltmarshe Hall was the first venue we visited and it had everything we were looking for. We could spend the whole day in one place and there were enough rooms for all our close friends and family. The age and character of the building fitted with our art deco theme, and the grounds are beautiful too. The wedding coordinators were also very welcoming.
We tied the knot there on 6 July 2019. When we visited the Brides Up North Wedding Show at Saltmarshe Hall in October 2018, we asked about cancellations for 2019 and they confirmed they had 6 July available.
Theme
Our theme started out as The Great Gatsby (1920s), however, as time went on we were concerned about it becoming a fancy dress party. In the end, it became more of a subtle art deco theme.
We designed some signs in The Great Gatsby style, written in gold on glossy navy card which we put up around the venue, including "save water, drink champagne" and "let's misbehave". We also had our table names – various monuments in Paris – printed on similar card.
Our colours were white, navy blue and gold. We had tall martini glass style vases filled with white flowers, white ostrich feathers and pearls as the centrepieces. The bridesmaid dresses and suits were navy blue, and the backs of the chairs were dressed with white and pearl brooches. Our stationery was also navy blue adorned with gold art deco style writing, and the favours were presented in little gold bags.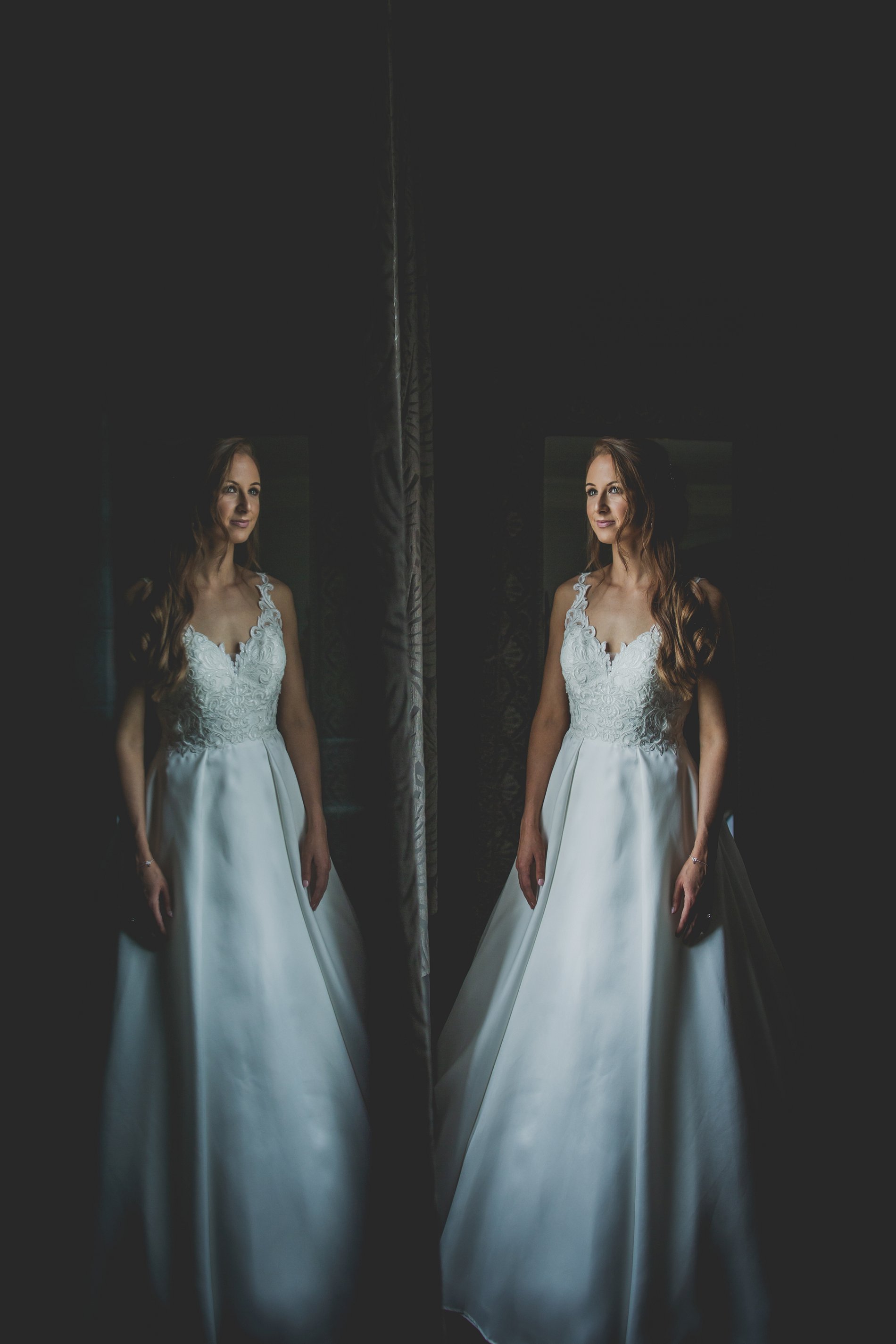 Dress
I lost count of the number of dresses I tried on! My bridesmaids, aunt and mum took it in turns to come with me to various bridal shops. I eventually found Abigail's Bridal Boutique in Leeds where I went with my mum and maid of honour. They stocked dresses by Stella York which I'd seen online and in magazines, and I would have bought her entire collection, pennies permitting!
I settled on a princess-style gown with a sweetheart neckline and a Mikado skirt. I must say that I did have second, third and even fourth thoughts about it all the way up to the wedding and I was concerned that Alex would expect to see me in something more fishtail or fitted. Despite the countless fitted dresses I tried on, none of them looked quite right. To my surprise on the day though, he said he had imagined I would wear a princess-style. Perhaps I should take his fashion advice more often!
Groomsmen
Alex wore a blue and ginger check suite from TM Lewin with a matching waistcoat and brown shoes.The groomsen, ushers, Alex's dad and my dad all wore the same.
Bridesmaids
The bridesmaid dresses were navy blue and full-length with a halter neck and pleated skirt. Despite it being a summer wedding, we wanted the dresses to be dark, complimenting the groomsmen's suits and contrasting against my white gown and flowers. We accessorised them with sparkly belts to draw in the waistline, although I can't take any credit for this – my maid of honour put these together and they added some glamour to the look. They were also paired with pearl earrings.
Beauty
We went to Sessions in Beverley. My mum and I have been going there for a number of years and my cousin used them for her wedding. They set us up in one of their beauty spa rooms with an en-suite, music and drinks. It was like having a little pre-wedding party with the mums and bridesmaids. They used Delilah make-up which I would definitely recommend for a natural long-wearing look.
Transport
My dad came to collect me from the Sessions House spa at 10am and we travelled together to the venue, meanwhile the bridesmaids followed with my mum. We didn't hire any cars.
Photographer
David Conway captured our day. We met David at the Brides Up North Wedding Show at Saltmarshe Hall, and we loved the examples of his work that we saw on that day, in particular David's famous Champagne shot.
We would – and have – recommended David to everyone! After seeing our photos, some of our friends and work colleagues have booked David. He was such an integral part of our day, and guided us through it all, offering advice and guidance, and arranging the photos beautifully, but also making it fun.
One of our favourite moments was when we had the Champagne shots under the trees after dark with our family and bridal party. It was great to get everyone together, and there was lots of silly banter while we were trying to get everyone into position, with the girls piggy-backing the boys and vice versa! It was like having a friend take your wedding photos but one that's an amazing photographer, too!
Styling
We used All Occasions Florists in Howden, who we had also met at the Brides Up North Wedding Show at Saltmarshe Hall. I had seen an example of their wedding set up at Saltmarshe and essentially wanted to copy that. We went for white roses and lots of green foliage. We also dressed the staircase with white flowers and plants, which was their idea, and lovely because we were able to take them home and plant them in our garden.
Favours
We went with the traditional five white sugared almonds for our favours, which we put inside little gold bags.
Cake
We decided on a navy blue and gold two-tiered art deco style cake, and it tasted really good!
Dining
We had prosecco for the wedding reception drinks and toast, and house wine for the tables. Our wedding breakfast consisted of a smoked haddock and salmon fishcake starter, followed by lemon and thyme roast chicken for main, and raspberry crème brulee for dessert. A few members of my family and I have severe allergies to dairy and gluten so we had a vegan and gluten-free Belgian chocolate torte for dessert instead. Later in the evening, we served burgers and hot pulled pork sandwiches.
Entertainment
Jonny Ross Music supplied our entertainment. We chose their DJ with a saxophone player package to fit in with our theme and it went down really well with our guests.
Special touches
For the ceremony room, we lined the aisle with white petals and candles in tall vases bought from IKEA.
We had games (croquet, giant garden Jenga and bar billiards) on the lawn throughout the day to also add to the 1920s theme. In the evening, we had 1920's party props such as toy guns, hats, and cigars which our guests passed around for photo opportunities.
Most special of all, David provided us with a picture frame which we used as our wedding guest book, which our guests all signed and left messages on. We ended up putting a print of our Champagne shot into the frame and this now hangs on our sitting room wall.
Thanks to
The grounds and building at Saltmarshe Hall really do sell themselves, but the venue has the added value of its lovely wedding coordinators, Hannah Langford and Kate O'Hara. They were really organised and attentive. Everything was set up perfectly and they guided us seamlessly through the day.
Best bit
We loved every minute! We loved the speeches which were full of humour and embarrassing moments, with my dad revealing the state of one of my Barbie dolls, and a very questionable lawn mower analogy from the groom's father.
Honeymoon
We went back to the country we visited on our first holiday together, but this time to a different resort – Varadero in Cuba. We were in desperate need of some relaxation and a beach by that point. We are not ones for lying by a pool for very long though, so we visited Havana, took a ride in a classic car, visited a sugar cane plantation, learned how to make cigars – and smoked one or two as well. We also went to the local town on a couple of evenings to party the Cuban way.
Advice
Brides Up North ran a great wedding show at Saltmarshe Hall. I remember receiving a really useful bride-to-be gift bag with lots of leaflets, cards, and a copy of UNVEILED Magazine filled with ideas for wedding dress designs inside. Thank you!
This is a sponsored post
Contact us to work with UNVEILED in print or online.