When Catherine and David got engaged on holiday in 2019 they had absolutely no idea that a virus might threaten to disrupt their perfect day. But our couple weren't going to let a little thing like a global pandemic get in their way of becoming husband and wife…
With a palette of dark navy and light grey, accents of metallics and monochrome in the stationery, and plenty of pretty white floral and foliage arrangements, historical venue Thicket Priory has really been dressed to impress. Catherine and David even found a way to incorporate their shared love of music through creative uses of sheet music as a variety of decorative elements. We've really fallen for photographer Carla's fresh, bright imagery and our couple's simple but beautiful styling, and we love the little touches of Covid-themed signage such as 'Distance makes the heart grow fonder' and 'It was worth the wait'!
You know we're suckers for groomsmen in a bow tie and bride Catherine looks utterly stunning in her incredibly chic Enzoani gown – it's even got pockets! Very handy for hiding any essentials for makeup touch ups on the day! Plus, the personalised leather jacket is an amazing way to add a bit more individuality to the whole ensemble.
Despite the twists and turns of this year our happy couple have managed to pull off their dream wedding at their dream venue. And, from the looks of these snaps, the happiness and raw emotions on everyone's faces, we can safely say it really WAS worth the wait.
With photography by UNVEILED Network Member Carla Whittingham Photography
Proposal
Catherine says: We got engaged whilst on holiday on the Amalfi Coast in June 2019. David popped the question on a day trip to Positano, somewhere that I'd been longing to visit since watching the film Under the Tuscan Sun! It was such a perfectly magical day, the sun was shining and we had a delicious lunch at Chez Black (where the movie stars used to dine during the 30s and 40s) before taking a stroll along `Lover's Lane` which took us around the cliff edge. David proposed whilst we were looking out to sea with the whole harbour in the background. It was such an intimate special moment, of course I said yes and we both cried! The heavens then opened so we had to dash to the nearest bar to take cover and toast our news! We were having so much fun we nearly missed the last bus back to our hotel in Sorrento!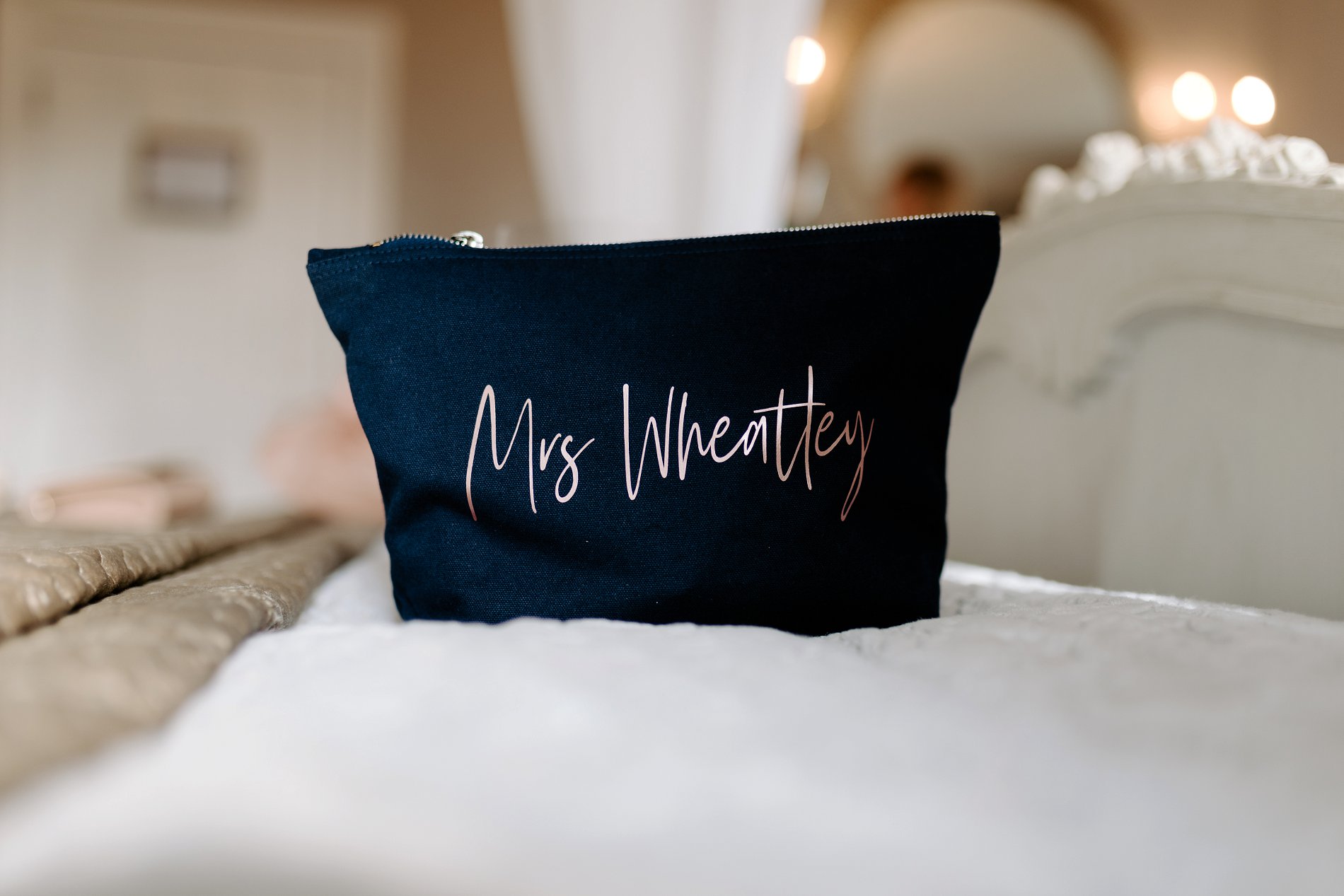 Setting
We were originally due to marry on the 30th of May 2020, a day that will always hold a special place in our hearts now. We had wanted to get married as soon as we could whilst still leaving enough time to plan things, so we aimed for a date around a year from when we got engaged.
However, 2020 didn't turn out to be the year we expected and so we had to adapt according to the changing rules that the global pandemic brought. It was quite the rollercoaster wedding planning experience, full of twists and turns and bumps in the road but all our suppliers worked with us and were all incredibly flexible and supportive. We were very lucky to be able to postpone our wedding, which thankfully went ahead on the 14th of October 2020. Funnily enough, we seem to be drawn to October – both our parents were married in October, we were both born in October and we actually first met in October – so maybe there were greater forces at work after all!
We married at Thicket Priory in York, and the ceremony was by Selby Registrars. From the day that we first viewed the venue, we knew we had found somewhere special and we fell in love with all the magical little details and fascinating history that seemed to ooze from every room and passageway. We couldn't imagine a better place to become Mr and Mrs, and we knew our guests would love it too. The wonderful team welcomed us so warmly, taking the time to get to know us and the kind of wedding we wanted to create. We wanted our guests to feel relaxed but also to be able to enjoy a little luxury, in a place we could be ourselves and be transported at the same time. We got that and a whole lot more with our choice of venue. Each of the rooms are so unique and the whole place has been lovingly restored to an incredible standard.
Due to the pandemic situation, we unfortunately were not able to have all our friends and family join us and had to make very difficult decisions as to who would be there on the day – the original guest list was about 100, which we then had to reduce to 30 and then again to 15. Everyone was really understanding and supportive, it wasn't what we had wanted but we just had to roll with it. We shared our special day via Zoom and had friends and family join us that way instead and we do hope to have a bigger party to celebrate in the future.
Theme
We wanted the overall look and feel of the day to be classic and elegant. Lots of fresh greenery and my favourite white flowers were added, and we also used sheet music to add little extra details. We both love music and we thought this was a nice way to incorporate this. We used sheet music to make paper cones filled with gypsophila to adorn the aisle, added it to the table plan, used sheet music washi tape to decorate signs, and handmade decoupage decorations using sheet music too.
We had a simple colour palette of dark navy and light grey, with accents of silver and monochrome stationery and signage. We chose colours that felt elegant and fresh. We used ribbon to help bring the colours into the décor, but we wanted to keep things quite subtle and let the backdrop of our venue shine through. It really didn't need much adding to it as it is such a stunning place!
Dress
My dress was Enzoani, with bespoke alterations from Scarlet Poppy Bridal Boutique in Pudsey. I absolutely adored my dress and loved wearing it. I wanted something that was relatively timeless and suited my personal style. I don't like anything too 'fussy' and personally really didn't want a dress with lace, sparkle or beading. I was looking for a simple satin dress, which was harder than I had anticipated. This one was perfect as it was classically elegant but had a little twist with the origami bow on the back. I felt amazing in it all day – it even had pockets so I could keep my lipstick close by!
I also had a custom painted leather jacket made by The Mermaid Effect after seeing them at the Unwedding Show in Leeds last year. I can't wait to wear it again, it was just the perfect addition to my bridal look as my dress was quite traditional. It was a nice way to bring another side of my personality out.
Groomsmen
David and the groomsmen all wore a dark navy suit from M&S with a mid-grey waistcoat. The ties, bow ties and pocket squares were all from Swagger and Swoon, who do a great matching/swatch service.
I knew I wanted David to wear a dark navy suit for our wedding, and luckily he agreed with the idea! On our second date, we met for dinner after work and David was wearing a dark navy suit, I thought he looked gorgeous and that date turned out to be the night we had our first kiss. So when we were thinking about the suits, it really had to be a dark navy! We wanted to keep the look modern and classic, and the fact that the suits can all be worn again is a bonus.
Bridesmaids
Our bridesmaids wore dresses from the Infinite Collection by Wed2Be. I originally had four bridesmaids, but due to the restrictions and various circumstances relating to the virus, two of my good friends were unable to be our bridesmaids on the day. My main focus was that I wanted everyone to feel comfortable, and also to be able to choose something that suited them all. These were perfect as they came in the dark navy colour that I was looking for but had the option of different styles which still fitted in with our overall look. They all said they were really easy to wear and they looked absolutely beautiful!
Beauty
Hair was done by Boutique Wedding Hair and makeup by Emily Franks.
Photographer
UNVEILED Network Member Carla Whittingham was our photographer. We can't thank or recommend Carla highly enough. She's incredibly talented and the photos that she took for our wedding and pre-wedding shoots are so beautiful. She's such a warm and lovely person and put us at ease right from our first meeting. By the time our wedding day arrived, she felt more like a friend and a guest than just a photographer. Throughout the pandemic and many changes to our plans she has been super supportive and flexible. Working with Carla feels effortless and we've always felt like we've been in very safe hands. Her photography style is exactly what we had wanted from our wedding photos and we are thrilled with them.
Videographer
We had Hello There Films. We hadn't originally planned to have a videographer, but when we made the decision to postpone due to the pandemic, we realised very quickly that having a video of the day and being able to share it with friends and family was more important than ever. Luckily, our preferred choice of company was available and we are so glad that we booked them! We would highly recommend having a videographer to other couples.
We can't recommend Craig and Charlotte from Hello There Films highly enough. They are both so talented and work so well as a team, and it's been an absolute joy having them join us on our wedding journey. They make it all so fun and we've had some real giggles along the way! They have supported us and adapted with us as the restrictions affected our plans, and we can't thank them enough. Their filming style is just what we wanted and has really surpassed our expectations. We absolutely love the way they have captured our special day!
Styling
The wedding flowers were all my favourites, white roses and lots of fresh greenery and herbs for texture and scent. The original plan was to use white peonies and panda anemones in the bouquet and floral arrangements, however due to having to postpone, these flowers were no longer in season for our new date. We were able to keep most of the same look though, and we had white David Austin roses which have delicate petals that are similar to the peony blooms we originally wanted, and our florist found a flower that was white with a black centre that came a close second to the anemones. We also incorporated olive branches into the bouquet as Olive is one of my nicknames, due to my love of olives and it was a nod to our shared love of Italy, where we got engaged. The buttonholes all featured a large white 'Yorkshire' rose to reflect where we live and our family history.
Our flowers were all sourced, designed and installed by the wonderful Kathrine at Fleur Adamo Floral Design. She is such a talented florist and gardener, and she really went the extra mile to make sure that everything was perfect on the day.
Favours
This was one of our favourite parts of the wedding planning process. We both love giving gifts and thinking of special little touches for our friends and family. We handmade little guest bags to go in each of our guests' rooms, including things like face masks to fit with our colour scheme, personalised bottles of hand sanitizer and handmade sheet music heart decorations. We also made little itinerary packs for everyone, setting out key timings and the 'house rules' to ensure we were all keeping covid-safe. We also included specially made personalised biscuits by L.S.Cakery for everyone. Our table favours were personalised miniature bottles of gin that we put together at home. We are huge gin geeks and this was the perfect little addition to the place settings too!
Cake
Our cake was made by Lisha at LS Cakery. We wanted a simple cake and opted for three tiers in simple white icing. The bottom tier was vanilla, the middle was lemon and the top tier was red velvet (the groom's favourite). It was delicious and there was plenty to go around as we didn't alter the size when we had to adjust the guest list, we thought it was better to just have more cake for people to take home! The cake was decorated with fresh flowers provided by our florist, and topped with a silver vase that had been on the bride's parents wedding cake when they married in 1973! We also had vegan cupcakes made for the groom's parents, matching the design of the biscuit favours.
Dining
Our caterers were UNVEILED Network Member Baba Ganoush Catering and they did an amazing job. From start to finish the team were exceptional. They worked with us to create our menu, making excellent suggestions and were happy to make little tweaks to ensure it was exactly what we wanted. Their food is absolutely delicious and beautifully presented, couldn't fault it at all. We had a grazing feast the night before too, with all our guests, featuring arancini balls, meats, cheeses, breads, flavoured butters, pork pies and plenty of olives. This was originally going to be set up on a large table for guests to help themselves, but were able to adapt it to fit with the Covid guidelines and the team set up individual displays that looked amazing.
On the day itself, we opted for extended canapés instead of a traditional starter, which were served on beautiful wooden boards along with our reception drink – a gin and tonic! What else?! Our main course was a duo of beef; featherblade and an ox cheek bon bon served with dauphinoise potatoes. This worked really well given the change of seasons. We then went for a 'his and hers' duo for dessert – the bride's favourite lemon posset and the groom's favourite of jam roly poly! In the evening, we served pizzas with a variety of toppings on a focaccia base and a cheese table with all the trimmings. Everything was delicious and I somehow avoided spilling anything on my dress which still continues to amaze me!
We tried to include little touches throughout the day to bring in parts of our personalities and to reflect our families. I had a little pin that was given to me by my grandma, who passed away when I was a teenager, that I added to my bouquet and David wore cufflinks and a silver pocket watch that belonged to each of his grandfathers. We also displayed photos of loved ones who were missing from the celebrations.
As we are huge gin fans, we also used empty gin bottles with fairy lights to add to the decorations. All the bottles were ones that we had either been gifted by friends and family or that we had collected on our various travels. It's safe to say that lockdown presented the perfect opportunity to ensure there were plenty of empties by the time we had our big day!
We also had to adapt the format of our day to make sure we were keeping in line with all the Covid-safe rules. We were unable to have readings as part of our ceremony, so we switched those to take place during the meal, between courses, they were a bit like an extension to the speeches and it worked perfectly. We had readings from our good friend Luisa and the groom's father, and then both the bride's father and the Best Man gave brilliant speeches!
Entertainment
We had originally booked a band to perform an acoustic set during the day and a full evening set with a DJ for later on. This was one of the aspects of the day that we weren't sure about as the rules kept changing, but luckily when the day came we were able to include the full band and they performed for us in the evening. Although we weren't allowed to have a dancefloor, we still had a great time enjoying the music. Our band were Electric Idols and they did a great job of playing lots of rock and indie classics! It was so great to see some live music again too.
Both of our families also love games and quizzes, so on both the night before and the evening of the wedding day, both our fathers hosted games and quizzes to add to the entertainment. One was a wedding themed quiz and the other game was Family Fortunes! It was so much fun and helped to bring everyone together.
In the evening, our amazing first dance was outside on the bandstand, just as the sun was going down. Afterwards we all lit sparklers before going back inside to warm up!
Thanks to
When we first came to view Thicket Priory, we were blown away and instantly knew that nothing else could come close for us. Not only is the venue incredibly stunning and magical in equal measure, it also had all the features we were looking for to create our dream wedding weekend with all our friends and family there to celebrate with us. The team really impressed us from that first meeting and haven't let us down since. We have always felt welcomed, valued, and understood by the whole team.
When the impact of the coronavirus pandemic started to hit home, we watched as our plans unravelled and our dreams started to shatter. Like many other couples due to marry this year, it's been a really difficult and emotional time, but we feel so lucky to have been working with an amazing bunch of people who have our best interests at heart! They have been flexible, supportive and super helpful. I would highly recommend everything about this venue and it's incredible team.
We have similar praise for all of our amazing suppliers and we could not recommend them highly enough. It's been a difficult year for the wedding industry to say the least, but the dedication, professionalism and human touch has really shone through.
Best bit
Saying our vows! I loved every part of our day but saying those long-awaited words to each other was incredibly special, especially after everything we had faced in the lead up to the wedding.
David's best bit was the first look! He said, "It was something that I was looking forward to the most, seeing Catherine for the first time on our wedding day and seeing her walk down the aisle. I was more than a bit emotional, it was such a special moment and she looked so beautiful."
Advice
I know it's a cliché but my advice would be to really do try to focus on the day and what it means to you, rather than get swept away with the sense of expectation. I definitely fell victim to that during the planning process but having to adapt and change our plans so many times, along with all the added uncertainty, really helped remind us what it was all about.
I would also recommend having a little bag with all your wedding day essentials (tissues, extra hair clips, lipstick, perfume and a comb) stashed away somewhere you can easily access it. You want to spend as much of your day with your guests as possible, so having things you might need to hand saves a bit of extra time for that!
This is a sponsored post
Contact us to work with UNVEILED in print or online.