Meet Alex, our UNVEILED Network Member and talented wedding and portrait specialist from the North who, quite simply, loves capturing people's special moments.
Alex embarked on her photography journey at a young age, and was always playing around with disposable cameras and Polaroids. She then studied for her diploma in film photography when she was 19, and that's when the real magic happened. Creating images and developing them in a dark room truly captured her imagination.
After having a photography business – Alexandria French Photography – as a side hustle for several years, she then took the leap and turned it into her full-time career when she had her baby.
As Alex says: "Photography is my passion. I chose this career because making people happy through my work makes me happy too. I started up my business because having my little girl made me feel powerful and I want to show her that #girlsarepowerful and that we can do anything we set our minds to. The power of an image is pure magic."
And we couldn't agree more! Let's chat some more and find out about Alex's gorgeous documentary style photography, as well as details of a very special offer that's exclusive to UNVEILED readers.
Shoot team: Concept and photography: Alexandria French Photography | Makeup: Coco Studio by Bridie | Florals: Moss and Clover Kelham | Accessories: Say Paloma | Cakes: Pink Peppercorn Cakes | Celebrant: Helen Jubb Ceremonies
A PASSION FOR PHOTOGRAPHY
Alex says: Wedding days are beyond special, and if I had to pinpoint the biggest love – it would be knowing that a couple will get to relive their day through my images. There are always moments at weddings that couples miss experiencing themselves, so it is so lovely for me to think that they will get to see their day from another perspective, too.
SIGNATURE STYLE
My style is mostly documentary. I definitely capture a couple's day naturally, but I throw a few Vogue-style shots in there for the bridal party, too.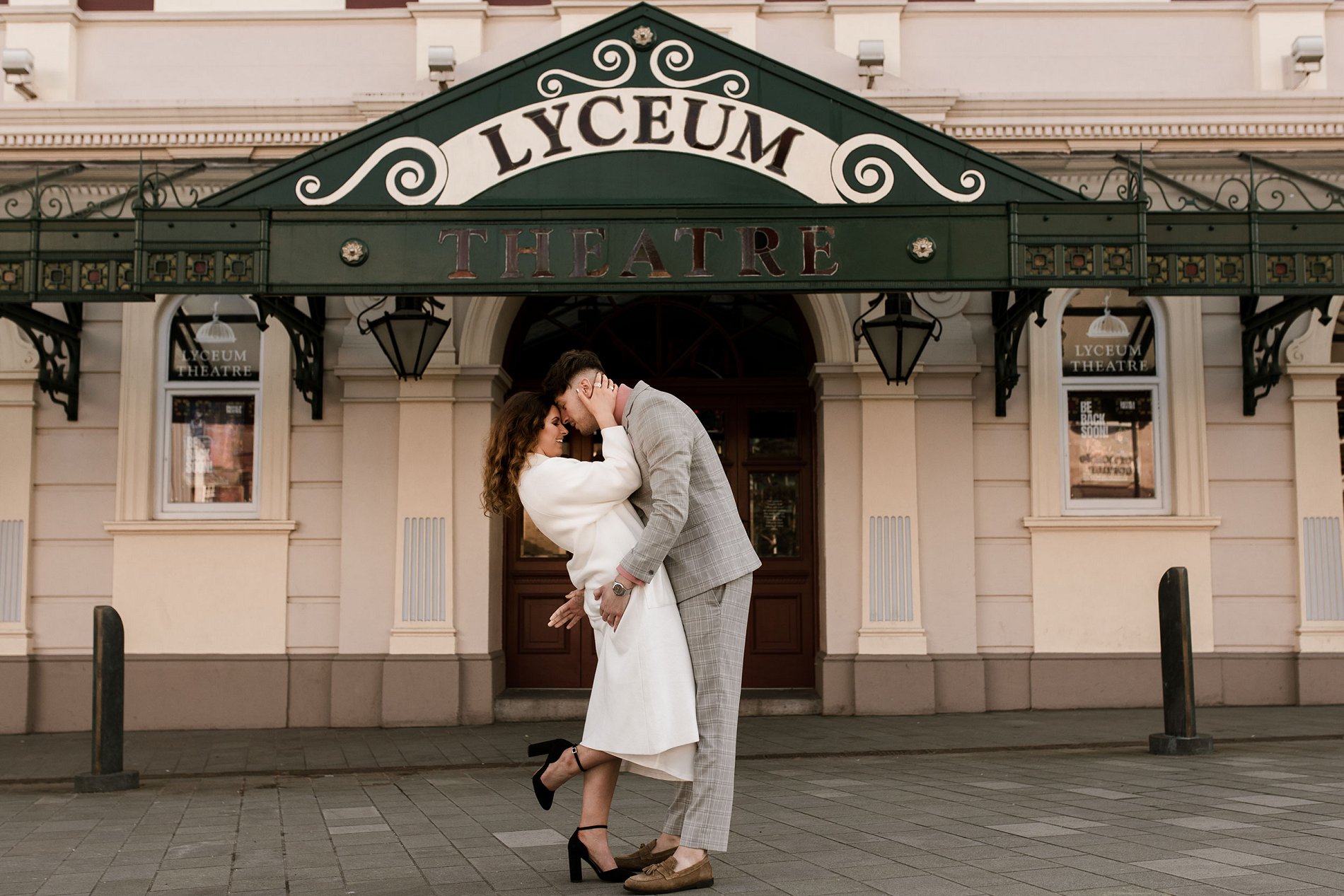 APPROACH
My approach is laid-back and unobtrusive. I always tell couples that I am just another friend at their wedding that's there to celebrate and support them.
I build relationships in a few different ways. I only take on a small number of weddings per year, this allows me to be super focused on all of my couples. I always invite couples to a video chat before they book with me (it's important that we all have the same vibe) and I offer a shoot before their wedding to break the ice and have a play with the camera. And there's always Instagram of course – I like to follow my couples on Insta so we can keep up-to-date with life.
The thing that sets me apart from other photographers is definitely my editing style and mine is warm and natural…this and my can-do attitude.
FAVOURITE PART
The whole wedding day is my favourite! In all honesty, my favourite part has to be the brief time before a couple is married. There are so many nerves and excitement. I love capturing couples just before they are face-to-face ready to take their vows – it's such a powerful moment. That, and when they're too many gins down and partying hard!
GEOGRAPHICAL REACH
I've photographed weddings all around the north of our great country, and plan on capturing weddings all over the UK.
TOP TIPS
My top three tips for couples searching for a wedding photographer include:
The click. You have to love your photographer just as much as you love their work. Your photographer is with you for your whole wedding day. If, for any reason, you don't click with your photographer, your images will be tarnished with that memory.
Their passion. For photography and people. Photography is an art form, and artists are passionate about their work.
Their attention to detail. Your photos will stand the test of time from your wedding day. You want your photographer to edit and present your images with care. It's all about the little things that make a big difference to your experience.
AND THE NO-NOS
I will not edit a black and white image with a certain element in colour – it's just not my style.
I will not apply a preset to your entire gallery and call that editing. I edit each individual photograph with care.
I won't leave straight after your first dance.
PACKAGES
I have three package options for couples, but I also offer a bespoke menu so you can design your own package too.
My packages were designed based on feedback and lots of Instagram polls to get these perfect for my couples and I am super proud of them.
SPECIAL OFFER
I would love to offer each couple that books with me a print package worth £200. Just quote 'UNVEILED' to redeem.
This is a sponsored post
Contact us to work with UNVEILED in print or online.